Upcoming concert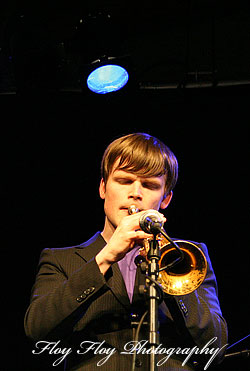 Tomorrow, Friday, Olle Thunströms kvartett will play at After Work Jazz at Hotel Uppsala (located at Kungsgatan/ St. Olofsgatan).

The band consists of Olle Thunström (tenor saxophone) Daniel Lantz (piano), Kenji Rabson (bass) and Daniel Olsson (drums). This evening they will also feature Karl Olandersson (trumpet). The band starts at 17.30.

There is no entrance fee and you can buy food and drinks while you listen to the band.

The photo of Karl Olandersson is taken by me at the his concert at Katalin earlier this spring and may not be used elsewhere without my permission. Contact me if you want to licence the photo.
Have you been to After Work Jazz before? What do you think? Tell me.