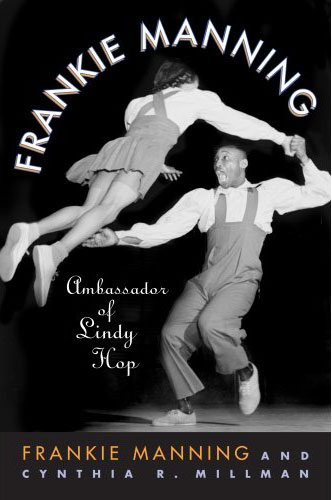 The autobiography by Frankie Manning: Frankie Manning: Ambassador of Lindy Hop has just been released. Cynthia Millman is co-author of the book and I was curious about her so I did an interview with her to find out more about her and the process behind writing the biography.

Can you tell me a little bit about yourself? What do you do for a living? When did you start dancing?

I loved dancing as a kid, but didn't start training until age 12, after seeing a ballet demonstration. Since then I've explored many, many forms of classical, modern, and ethnic dance, but once I discovered swing dancing in the mid 1980s, that was it. I have a master's degree in dance and dance education, and taught dance (mostly to children) and performed (on and off) for 25 years. Somewhere in there, I made a career shift. I earned a master's in library science, and have been a children's librarian for the last fifteen years, currently at The Town School in Manhattan.

When did you first meet Frankie?

I first met Frankie at a dance in 1986, which I describe in the book's introduction. I didn't really get to know him until I began performing with the Big Apple Lindy Hoppers in 1990. It was while hearing his stories at dinner after rehearsals that I first realized what an interesting life he had lived, and how gifted he was at describing his experiences.

How would you describe Frankie Manning to someone who doesn't know him?

Frankie Manning was one of the main creators of the lindy hop at Harlem's Savoy Ballroom during the 1930s. His choregraphic innovations, especially the air step and synchronized ensemble routines, helped catapult the lindy from ballroom to stage and screen. Frankie's choreography for and performances as a lead dancer with Whitey's Lindy Hoppers helped popularize the lindy and disseminate it across America and around the world. With the demise of the Swing Era, Frankie took a "temporary" job in the Post Office . . . and ended up working there for 30 years! His rediscovery by a new generation of swing dancers and his professional comeback were a driving force in the swing dance revival that began in the 1980s and is still going strong. Today, at 93, Frankie has a packed teaching schedule and travels constantly to share with others the joy that swing dancing has brought him. An inspiration to us all, Frankie is as beloved for his marvelous personality as he is for his vital role in American dance history.

Frankie is one of my favorite people in the world, and collaborating on his autobiography was one of the greatest experiences of my life.

How come you started to write the book about Frankie Manning?

In 1987, I interviewed Frankie Manning for an article about the swing dance revival for a small local newspaper in Manhattan. I subsequently interviewed him for a master's thesis project, an extensive exhibit on the history of swing dancing (which showed at swing dance events in New York City, Herrang, London, and Toronto), and for articles in Dance Magazine and The International Encyclopedia of Dance. In 1993, Frankie and I began doing educational presentations on lindy history that included lecture, interview, demonstration, and video clips. Around this time, I realized that I was completely enchanted by the history of swing dancing and asked Frankie if we could do a book together. Happily, he said yes.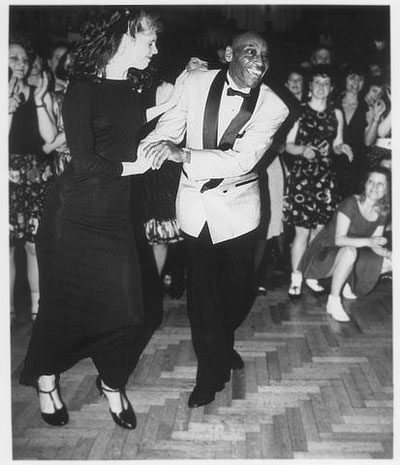 Frankie Manning dancing with Cynthia Millman at CAN'T TOP THE LINDY HOP! during a birthday dance on the occasion of his 80th birthday party in New York City, 1994. Photographer: Timothy Swiecicki.

What is your favorite story from the book?

I love all of Frankie's stories, but the one that stands out for me is when he danced with Betty Grable at a USO show in New Guinea during World War II. In addition to being a fun story, I feel that it illustrates so much of what Frankie is all about: his ability to make the best of a bad situation with incredible pluck and humor; his use of dance to connect to individuals and audiences; his love of entertaining people and lifting their spirits with his dancing; his professionalism as an entertainer; his respect for musicians; his personal charm; and his ability to disable racial prejudice at a time when it was so deeply entrenched in and so openly a part of American culture.

I also find his story about Sergeant Montgomery very moving. It's one of the first stories I ever heard Frankie tell, and I'll never forget hearing it that first time.

Now that the book is done, do you have any other subjects that you would like to write about?

As a children's librarian, I have quite a few ideas for children's books. I'm also interested in doing some articles on holistic health practices and meditation. And I'm considering some other research projects in the swing dance area.

Is there anything else you would like to mention?

Just that I hope everyone enjoys reading about Frankie Manning's life. Part of why we were able to get a publisher was because we could demonstrate to Temple University Press that there was an extensive international audience for Frankie's story. Thinking about sharing the book with all of you helped keep us going during the lengthy process of getting that rich, long life into the pages of a book.


Thank you, Cynthia Millman, for taking time to answer the questions!
Thanks for giving me the opportunity to talk about the book.

Update: Read my book review here.

Order Frankie Manning: Ambassador of Lindy Hop at Amazon.com. Maybe join the campaign to make the book a best seller?

What do you think of this interview? Got other questions for Cynthia Millman? Tell me.