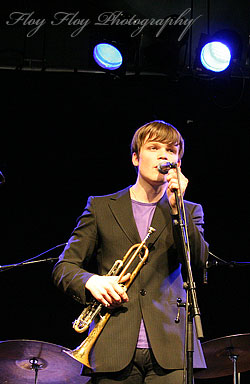 Karl Olandersson Quartet played at a concert at Katalin and all that jazz in Uppsala. This was the first concert for the season arranged by Uppsala Jazz Club.

The quartet consists of Karl Olandersson (trumpet and song), Mathias Algotsson (piano), Clas Lassbo (bass) and Mattias Puttonen (drums).

Karl Olandersson reminds a lot of Chet Baker because he is a young talented trumpet player that plays cool jazz. I guess he must hear that all the time (but hey, he looks like Chet Baker as well). Anyone would like to play trumpet like this guy. Great phrasing!

The songs where kind of cool jazz, most of them in a laid back style but still swinging thanks to the rhythm section. They played a couple of blues songs that were a little bit more uptempo. I really liked the way Mathias Algotsson played the piano.

They played their own versions of Caravan and Stardust.

By popular demand Karl Olandersson sang in the extra number "This is the end of a beautiful friendship" even though he said his throat was a little bit sore. Great execution of that song. All in all, a very good concert.

All photos are taken by me and may not be used elsewhere without my permission.

Where you at the concert? What did you think?