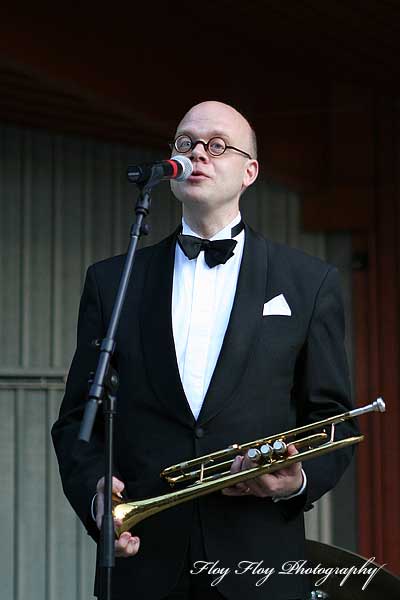 Tickets for the big annual jazz festival in Uppsala, Uppsala Winter Swing, will be released at Uppsala Nya Tidning (UNT) tomorrow. UNT is located at Dragarbrunnsgatan 24 in Uppsala.

Peter Lind & The Cabaret Band will play between 10 and 12 tomorrow. In case you haven't heard them, you should definitly take the chance to see them. They are a very entertaining and swinging band.

I'll post more about Uppsala Winter Swing later on, with all the details about which jazz orchestras and artists that will perform at the jazz festival. Uppsala Winter Swing takes place on Jan 26th 2008.

You might want to read all the articles I've written about the jazz festival.

The photo is taken by me at their show Good Evening Everybody and may not be published elsewhere without my permission. Contact me if you want to license it.

Are you planning to attend Uppsala Winter Swing? Tell me.