Upcoming concert

Tomorrow it's time for Buba Jazz Band to play at a concert at Katalin and all that jazz. The concert is arranged by Uppsala Jazz Club.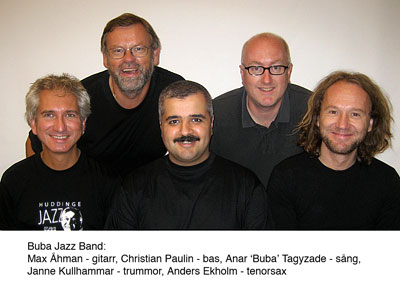 Buba Jazz Band consists of Anar "Buba" Tagyzade (song), Anders Ekholm (saxophone), Max Åhman (guitar), Christian Paulin (bass) and Janne Kullhammar (drums).

I haven't heard them before. The program says that they will play songs of Thelonious Monk, Dave Brubeck, Charlie Parker and John Coltrane mixed together with jazz standards. I've read that Anar "Buba" Tagyzade is good at scatting. I guess it will be a lot of bop at this concert.

Have you heard them? What do you think of them? Tell me.