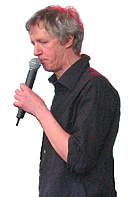 Don't miss swing dj Svante Grundberg at Dekadans tonight. Svante Grundberg lives in Stockholm where he djs a lot. Svante is also an actor who has appeared in Swedish cult movies such as "Göta Kanal" and "Sällskapsresan".

Together with Björn Wallde he had a tv program called "Nattsudd" where they played music clips from the 1930s through the 1950s.

Have you heard Svante Grundberg dj swing before? What do you think? Tell me.