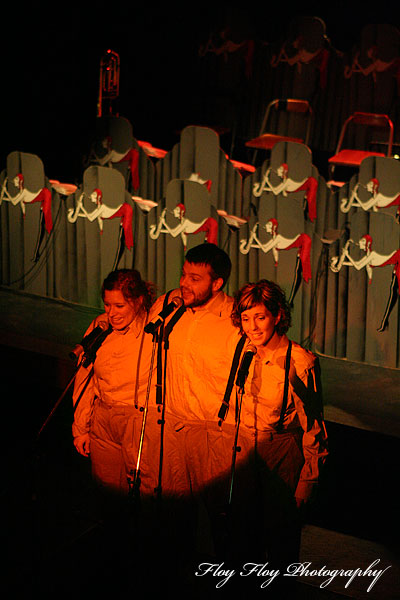 For the third year in a row the big band Svenska Showorkestern Phontrattarne (or Phontrattarne for short) performed at the big Saturday night dance at Uppsala Winter Camp.
The image above is from the dinner entertainment where the singers who were siamese tripplets performed the song "Me, myself and I". If you look closely you see that they have just one big pair of trousers and a giant shirt.

As you might have figured out from their full name they like to put on a great show as well as playing fantastic. The musicians always do something funny while they are not playing for the moment. Yey for jazz musicians that aren't shoe-gazers. It was a great night.

If you are a student you can dance to the band at Norrlands nation February 15th and March 14th.

I heard that they have a new cd out now, but I didn't have a chance to have a look at it.

Read what I wrote about Phontrattarne last year.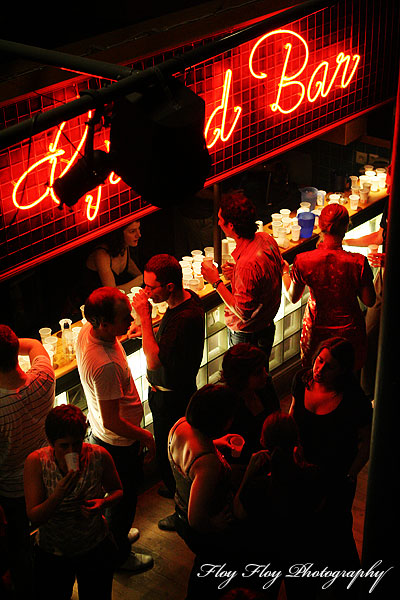 On a dance night at Grand you might have to catch your breath for a while. There a two options at Grand, either the cafe upstairs where you can get all kinds of cakes, tea, coffee and sodas and sink down into a comfortable sofa while listening to slow blues music.

You could also visit the bar downstairs (pictured above) which has plenty of water. Have a quick sip of water and you're out on the dance floor in no time. Just be sure to mark the cup with your name, othervise it will be lost immediately.

The photos are taken by me and may not be published elsewhere without my permission. Contact me if you want to license them.

Were you at the Saturday night dance at Grand where Svenska Showorkestern Phontrattarne were playing? What did you think of the band? Tell me.