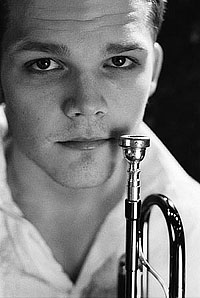 Uppsala Jazz Club has just released its program for spring 2007 with concerts that will take place Saturdays at Katalin and all that jazz. It looks like it will be all kinds of jazz: traditional (hot) jazz with Fyris Jazz Band, 50's Basie style with Sandviken Big Band and Claes Jansson and also more modern jazz styles.

The first jazz concert of the season will be tomorrow Sat 10th, when Karl Olandersson Quartet plays. Karl Olandersson plays trumpet and sings. Also in the quartet: Mathias Algotsson (piano), Clas Lassbo (bass) and Mattias Puttonen (drums).

The concert starts at 14 o'clock. Tickets are bought at the door and costs 220 kr (190 kr if you are a member of Uppsala Jazz Club or has a UNT-card).

Some of you may recognize that one of my pictures of Nkiru from the Youth Jazz Contest is in the program. The first prize in the contest was a concert at Katalin. Nkiru will play Feb 24th.

I've been invited to report from all concerts so you can expect stories och photos all through the spring.

The picture of Karl Olandersson is taken from his website.