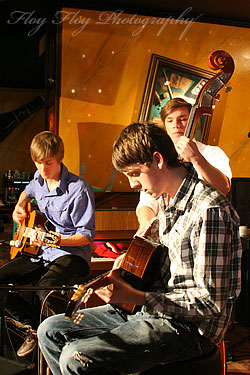 Swing Mon Amour played at Uppsala Winter Swing jazz festival in January. They play jazz in a Django Reinhardt kind of style.

I liked their versions of Minor Swing and Stompin' at the Savoy.

Hampus Andersson and Anton Svanberg plays the guitar while Gustaf Gunér plays bass.

Does anyone know if they have a website? Tell me if they have one and I'll link there.

The photo is taken by me and may not be used elsewhere without my permission.

Did you see Swing Mon Amour at Uppsala Winter Swing? What did you think of them? Tell me.