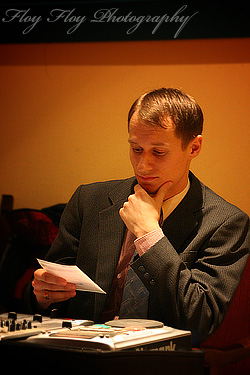 Tonight Ulf Carling will be the swing dj at Dekadans. Come there and dance to the swing music.

Tonight is a also Beginners Night where we try to get as many people there from the beginners courses and get them to have fun dancing socially.

During one hour in the beginning of the evening all experienced dancers dance only with beginners and get to know them.



I think this is a important thing to do, when you start dancing you are easily intimidated by experienced dancers. You think that they are too good to ask to dance because they will get bored because you don't know much stuff.

As an experienced dancer I can tell you that that is not the case as long as you are smiling and you're trying your best. We want you do become a better dancer but we know that it takes time. Knowing this, it might be easier to ask someone to dance, it's still a little bit intimidating, but you must be brave.
I always try to dance with two or three persons a night that I haven't danced with before. It's fun to get to know new people.
Now, a little bit more about Ulf Carling. Ulf is also a drummer in the Carling Family band. He always adds a good portion of humour when he plays drums. All his family is talented musicians, the most well known relative is his sister
Gunhild Carling
. Tonight at Dekadans, I hope he plays a private recording of One Oclock Jump from when Gunhild played with the
Count Basie Orchestra
. I really would like to have that recording myself because it's really great!
As a bonus I've found a old
video clip from 1990 with Carling Hot Six playing "You're Driving me Crazy"
with Ulf at the drums and his sisters doing a charleston dance routine.
The photo of Ulf Carling was taken by me and may not be used elsewhere without my permission.
Have you heard Ulf Carling play drums or dj?
Tell me
.