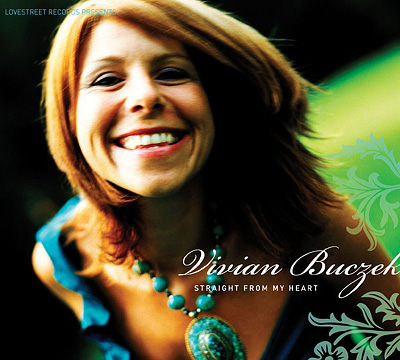 Tomorrow Saturday there will be a concert at Katalin and all that jazz with singer Vivian Buczek and the Claes Crona Trio featuring Johan Hörlen (saxophone). The concert is arranged by Uppsala Jazz Club and starts at 14.

The Claes Crona Trio consists of Claes Crona (piano), Jörgen Smeby (bass) och Petur "Island" Östlund (drums). Johan Hörlen (saxophone) will replace Hector Bingert, who was initially announced to be playing with the band.

The band will play jazz standards, swing, some songs with latin influences as well as some original compositions by Vivian Buczek and Claes Crona.

Vivian Buczek will soon release her second album: Straight from my heart in April but you can buy it at the consert if you like. The picture above is the cover for her cd. Cover design by Pär Wolfner and photograph by Åsa Kristensson.

Have you heard them before? What do you think? Tell me.