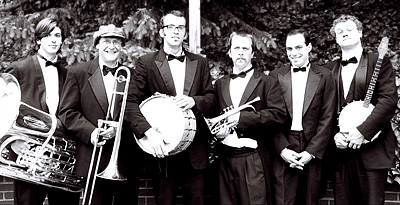 I'm always looking for new versions of great songs, now I've found terrific hot jazz version of Diga diga doo by the Firecracker Jazz Band from Asheville, North Carolina. One of the best versions I've heard. Listen to Diga diga doo.

If I lived in Asheville I would definitely go out and see them perform, why don't you take a look at their MySpace page to see where they are playing next? I would love to have their cd.

There's a lot of good things in Asheville right now. Like Sugar Foot Stomp, an "old-fashioned fast-dance and hot-jazz" dance weekend that coming up July 13th-15th. They will have workshops taught by Chad Fasca and Midori Asakura Fasca who will teach dances like charleston and peabody. And of course a lot of hot jazz music.

Check out this video clip with Chad and Midori from the 2004 American Lindy Hop Championships where they won the Fast Dance division dancing a combination of peabody and charleston.



What do you think of the Firecracker Jazz Band? Tell me.