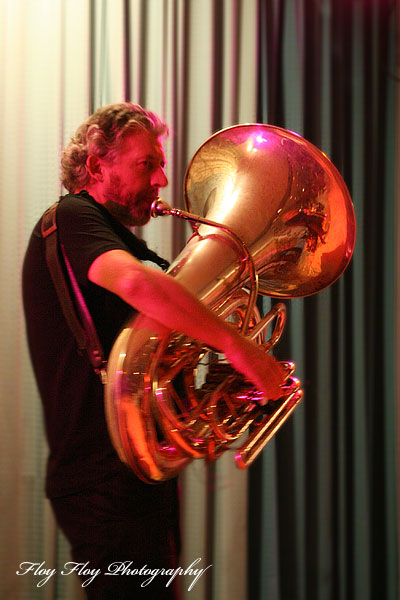 Brazz Brothers, a Norwegian brass band, played at the jazz festival Uppsala Winter Swing in January. Since it's Sunday I took the opportunity to dig through my jazz photo archive to find some pictures of them.

Brazz Brothers consists of two sets of brothers, first Helge Førde (trombone) and his twin Jarle Førde (trumpet/flugelhorn) and the third brother: Jan Magne Førde (trumpet/flugelhorn). The other pair of brothers are Runar Tafjord (french horn) and Stein Erik Tafjord (tuba). The last person in the band is Marcus Lewin (drums/percussion), he might also have brothers but they are not playing in the band.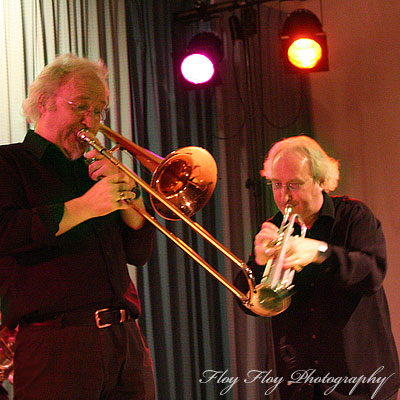 Brazz brothers mixes traditional jazz and fusion jazz. At the concert they showed some of their African influences in the song "African Marketplace". They also pay attention to their Norwegian roots and have just released a cd called Vågåblot where they mix in traditional norwegian folk music.

All brass players in the band are also trained in classical music and they played a really great (grejt!) piece called "Domen" (The Cathedral) which made the whole room feel like you were in a cathedral. Speaking of cathedrals, Brazz brother will be back in Uppsala this fall to give a concert together with Orphei Drängar, one of the best men choirs in the world. If you have the opportunity, see them in the Uppsala cathedral September 29th.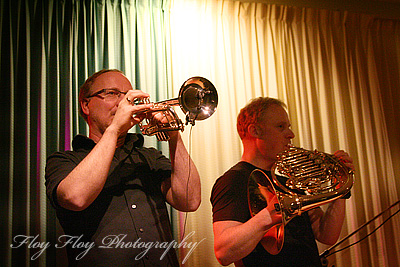 The photos are taken by me and may not be used elsewhere without my permission. Contact me if you want to license them.

Have you heard Brazz brothers? What do you think of them? Tell me.