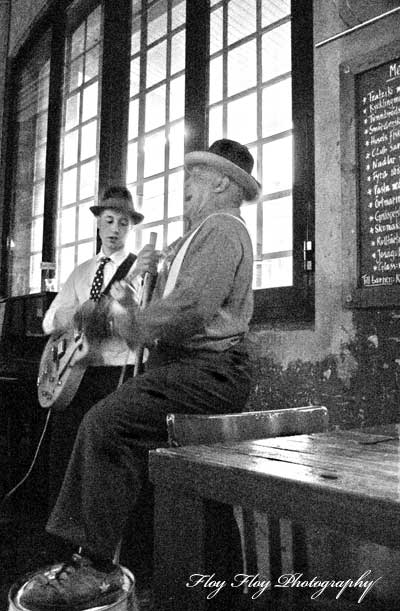 The Lost Wandering Blues & Jazz Band will play at Katalin at 20.00 tonight. The Lost and Wandering Blues & Jazz Band is a charming street jazz band that has been playing all over Europe and USA for the last 25 years.

The band is led by Dan Fitzgerald who sings with a rough voice and plays washtub bass. Also in the band is Gene Clarke on trumpet and piano. Different local musicians join them when they come to a new town. Here in Uppsala I'm pretty sure that David Shore (vocals and guitar) will join them as he has done before.

You might not know that the now world famous jazz singer Madeleine Peyroux sung and played with The Lost Wandering Blues & Jazz Band in the early 1990's.

The band is really at it's best in small and intimate venues, so I encourage you to see them tonight. They will also play one more time at Katalin on Saturday. I don't know their plans but you might also spot them playing downtown this week (maybe at Forumtorget).

If you'd like a sample of Dan Fitzgerald's singing, take a look at this video clip from the early 1980's from a live performance on German television. The band performs three songs: Take It Right Back, God Bless the Child and Is You Is Or Is You Ain't (My Baby).



The photo above is taken by me and may not be used elsewhere without my permission. Contact me if you want to license it.

Have you heard The Lost Wandering Blues & Jazz Band? What do you think of them? Tell me.