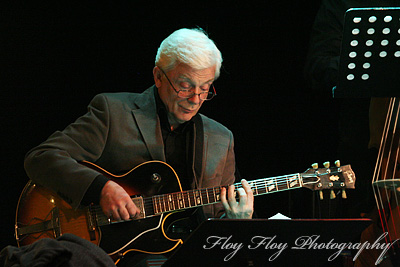 Tonight Lars Erstrand Four featuring Gunnar Lidberg will play at an outdoor concert at Parksnäckan in Uppsala.

The band consists of Lars Erstrand (vibraphone), Bertil Fernqvist (guitar), Arne Wilhelmsson (bass) and Björn Sjödin (drums). Gunnar Lidberg plays violin.

The concert starts at 19.30 and costs 90 kr (70 kr with UNT-card).

The photo of Bertil Fernqvist is taken by me at Uppsala Winter Swing and may not be used elsewhere without my permission. Contact me if you want to license it.

Have you heard Lars Erstrand Four before? What do you think of them? Tell me.