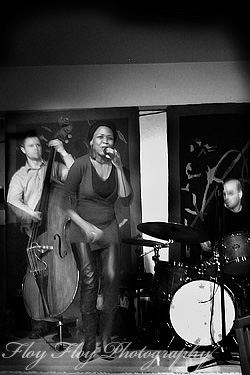 Last night was a jazz jam night at Pub 19, where everybody could bring their instrument and jam together.

This was a nice evening and the best was when jazz singer Sani Gamedze from South Africa took the stage. Just wonderful.

She will sing at Katalin Thursday Feb 8th with Democracy of jazz.

The photo was taken by me and may not be used elsewhere without my permisson. You also see Erik Ojala on bass. I don't know the drummers name, if you know, please tell me.