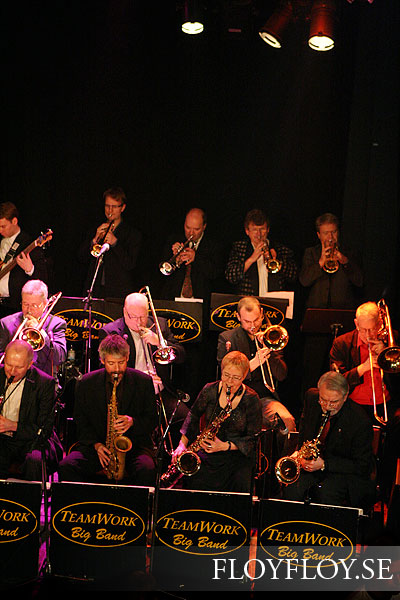 There are plenty of jazz concerts this summer in Parksnäckan, the outdoor stage in the City Garden of Uppsala.

The jazz concerts are arranged by jazz promotor Björn Sjödin. The concerts will start at 19:30 and cost 90 kr (70 if you got a UNT-card).

Here is the list of summer concerts:

July 3: Teamwork Big Band featuring Claes Janson and Nina Rydberg.
The concert will celebrate the life of Povel Ramel, a Swedish entertainer and comedian who sometimes used jazz songs.

July 24: Svenska Showorkestern Phontrattarne
Here is another chance to see their Grand show that they produce each year. Phontrattarne is a really good swinging orchestra combined with lots of humour.

July 31: Lars Erstrand Four
Lars Erstrand Four is a swinging quartet consisting of Lars Erstrand (vibraphone), Bertil Fernqvist (guitar), Arne Wilhelmsson (bass) and Björn Sjödin (drums).

Aug 12: STARDUST by Peter Lind and the Cabaret Band
A musical cabaret with stories and anecdotes about Harlem, Duke Ellington, Louis Armstrong, Fats Waller, Hoagy Carmichael and the other great stars of the swing era.

Aug 19: Solskensorkestern
A big band that doesn't play jazz but other old time music from the 1930-1940s, a musical style that in Sweden is called schlager.

Aug 21: Good Morning Blues
The oldest blues band in town (41 years!), Good Morning Blues, does their traditional summer performance in Parksnäckan. The band consists of Claes Janson, Bosse Broberg, John Högman, Anders Johansson, Jan Wärngren, Thomas Lindroth and Björn Sjödin.

What do you think of these summer jazz concerts in Uppsala? Which ones would you like to attend? Please comment.

The photos are taken by me and may not be published elsewhere without my permission. Contact me if you want to license them.