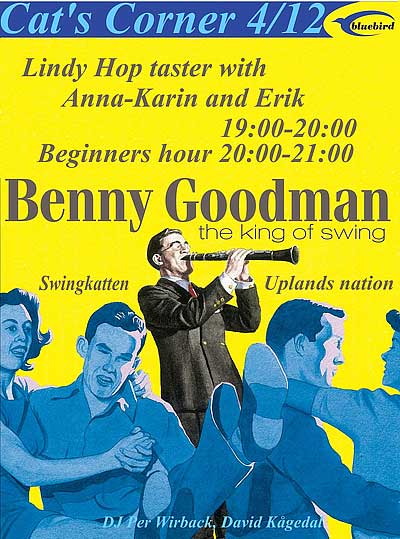 Tonight first time swing dj Per Wirback will make his debut at Cats Corner. His set will have a Benny Goodman theme. Also this night, you will hear swing dj David Kågedal.

Before the dance, there will be a taster lesson in lindy hop at 19, so if you'd like to try, get down there. The whole night costs 20 kr. How about that! The dance starts at 20 and ends 23.

The dance is run on voluntary basis, where small groups takes care of one or two evenings each semester. Every group could use additional persons, so if you'd like to be part of making Uppsala a really swingin town, talk with an organizer (or by all means, send me a mail and I'll forward it) and join us. Of course, you can band together with some friends and form a new group.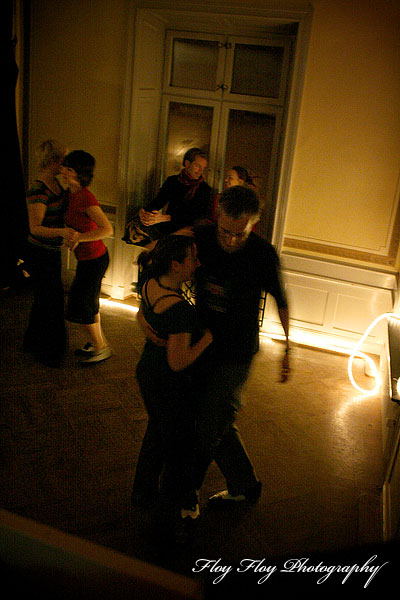 I think it's fantastic to be able to have a weekly dance. Had you asked me two years ago, I would have said that it was just a dream. But thanks to many peoples efforts a weekly dance night is now a reality.

One thing that is great about the group system is that the night can be a much or little work as you make it. If you only have a dj that's ok, but you can also have theme nights like tonight. Last time Johan organized a Jack'n'Jill-competition and there have been balboa themes and beginner nights. It's all up to what you like to do.

The photo is taken by me and may not be published elsewhere without my permission. Contact me if you want to license it.

Do you have ideas about what could be done at Cats Corner? Tell me.